The Story of Wisewell
The start of a water revolution.
In 2021, Sami Khoreibi and Sebastien Wakim joined forces in order to accomplish two goals: build a convenient water filter that is easy to monitor and help support a world with greater overall access to sustainable drinking water.
Design Excellence
While we spent a lot of time developing Wisewell's exceptional water filtration capabilities, we were still seriously invested in the look and feel of our debut product. Working with Shape, an Emmy award-winning design studio, we decided to go against the grain. Most water filters are purely functional, but we wanted Wisewell to be something you'd be happy to display and find easy to use, not an element to be worked around and hidden.
"Wisewell began from a simple premise: The water filter market features some products that are comprehensive, some that are easy to use, and some that are pleasing to look at—but no single machine that combines all three. So we decided to make the first." 
-Sami Khoreibi and Sebastien Wakim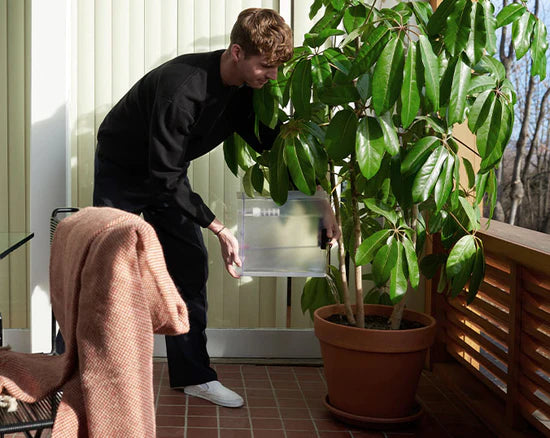 Sustainable Solution
Less than 1% of water on the planet is drinkable. While bottled water companies position themselves as stewards of that scarce supply, they waste thousands of gallons of potable water each year. Did you know that each gallon of bottled water on your supermarket shelf requires three gallons of "feed water" to be produced? Not to mention the crude oil used to both fuel that process and create the harmful plastics in the bottles themselves.
Giving Back
More than 884 million people around the globe do not have access to clean drinking water. We know that we can't solve this problem on our own, and so we have partnered with Splash, a social justice organization and safe water non-profit that focuses on providing children in urban areas with clean water. Thanks to their ingenious methods that levy restaurant and hotel supply chains to get water purification systems into schools, orphanages, and community centers, Splash's projects have been extremely efficient, effective, and long-lasting. In only ten years, they managed to bring clean water into every orphanage in China, and they are currently serving over 1,000,000 children in 8 countries throughout Asia and Africa.
For every gallon of water that you dispense from your Wisewell, Wisewell pledges to donate a gallon of water to a child who needs it through our partnership with Splash. By purifying your own water, you will be providing clean drinking water all over the globe.